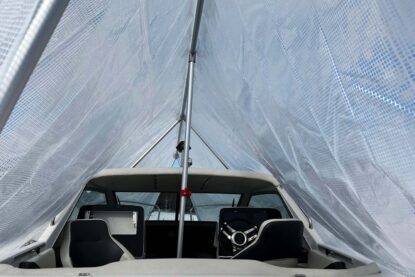 Campaign
Campaign
Campaign
Boat Tarpaulin Flex 230g/m2
incl. tax
Description
Boat Tarpaulin Flex is a transparent tarpaulin. It is high quality with excellent natural light that can be cut to shape without losing attachment points or tear strength. Manufactured from the material HD-polyethylene, which is completely free from any chemical additives. Recyclable and UV stabilised. What sets the Boat Tarpaulin Flex apart from other tarpaulin models manufactured from polyethylene is that it is not equipped with plastic or aluminium eyelets. Instead, this boat tarpaulin model has been fitted with a reinforcement band that has eyelet notches. The eyelet notches are placed at a 10 centimetre distance in the reinforcement band, which is located along the long sides of the boat tarpaulin. This has been proven to be significantly more durable than traditional eyelets and even creates a stiffer tension.
Flexible & transparent
You can easily shape this model to suit the dimensions of your boat by cutting it to size. Without losing tear strength or attachment points. Boat Tarpaulin Flex also allows a lot of natural light in because of its transparent tarpaulin cloth, which is beneficial during maintenance under the boat tarpaulin.
Secure Boat Tarpaulin Flex
Use Holdon Midi Clips, which are a durable eyelet clip for elastic material, when you secure your boat tarpaulin.
Usage areas:
Use Boat Tarpaulin Flex when taking up your boat in the winter. Naturally, it can be used for other purposes outside of the boat segment, such as for building or covering machinery. It is especially good for use if you need to work under a transparent tarpaulin that lets in a lot of light.
Specifications:
Material: HD-polyethylene (no chemicals such as cadmium) Colour: White/Transparent with white reinforcement. Weight: 230 g/m² Tensile strength 2900 N/5 cm Tear strength 330 N Temperature resistant -30°C till +70°C UV-stabilised to 200 kly 100% waterproof