2023/03/14
Build protection against flooding using tarpaulins
Tarpaulins can be used to build an effective protection against flooding
Build protection against flooding using tarpaulin
Flooding can lead to catastrophic consequences. In certain cases, this can be counteracted by building up temporary flood protection. We have compiled two approaches to building effective flood protection outdoors using tarpaulins. If protection against flooding is needed, there are several ways to go about building temporary flood protection. Two customary methods that are relatively fast, effective and offer protection against flooding is to build protection using tarpaulins. These methods are called pallet barrier and ground protection. Ground protection protects great against flooding and is most effective to build when there is access to machinery. Pallet barriers leave few traces behind and require a bit of labour. If you would like to see other methods for building temporary flood protection, then you can read more about this at The Swedish Civil Contingencies Agency's website.
Pallet barrier
This method requires little labour, fitting is fast and it leaves very few traces behind. Compare that this construction replaces 50 sandbags, each weighing 30 kg, which corresponds to 1.5 tonnes of sand. However, this method requires a relatively flat surface. You build a pallet barrier by leaning a pallet (EUR/SJ) against a support made from galvanized steel sheet. Then cover the top side of the pallet with a tarpaulin. Friction and pressure against the ground sufficiently anchors the support when the water presses against the pallet. Reinforce the ground with slabs under the support if the subsoil is weak. Cover or dig down the lower edge of the tarpaulin with a smaller amount of soil for protection against leakage between the ground and the tarpaulin. Use the pallet standing (0.95 m) or lying on the edge (0.65 m) depending on the anticipated water level.
Embankment
Build an embankment using moraine and protect from erosion in the best possible way using tarpaulins or stones. Tarpaulins can be used for temporary retaining dikes as protection against internal and external erosion. Building an embankment is a great option is suitable fill material is available within a reasonable distance from the area that is to be protected against flooding. If you have access to diggers, then this is an effective method for building flood protection that requires less labour. The downside is that the embankment is a heavy construction and it can entail significant restoration work for the landowner.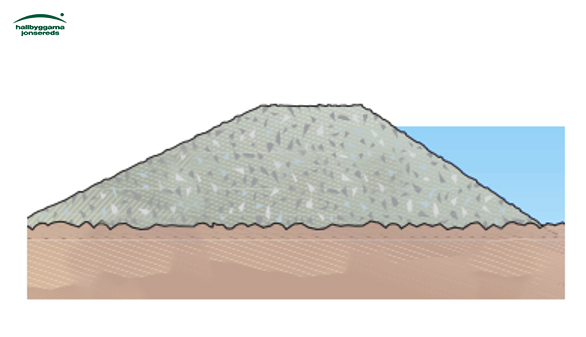 Image and text source: The Swedish Civil Contingencies Agency